The Portuguese language is spoken by 270 million of people around the world. Do we know ​​that? And that science is for everyone and should reach everyone? It was with this base that the project Cartas com Ciência was launched, on 5th of May, 2020, the first World Day of the Portuguese Language. And so, it promotes Portuguese as a language of knowledge and opportunities. It is a letter exchange program between scientists and children in Portuguese-speaking countries. Inspiring children to consider higher education and scientific careers is the main objective of the project that has already 600 scientists and some registered classes.
The project, created by Mariana Alves and Rafael Galupa, is an ongoing bridge of communication that also aims to reduce disparities in access to higher education, which, in their opinion, involves training children to believe that they can be scientists. Children send the first letter and can ask whatever they want. And the project, which includes entire classes, due to the "non-exclusion policy - we want to reach even those who, at first, are not interested in science and not just a group of students who are already interested in science", are divided in four cards with different subjects: higher education, scientific careers, the Portuguese language and how to overcome obstacles in education.
"Now, in the first three years, our goal is to make a class in each country of the Portuguese Speaking Countries Community. The first thing children do is to fill out a survey to find out their scientific and recreational interests and, therefore, with the scientists information too, pair them, so that the correspondence is the best possible, creating better match of identity and interests", explains Mariana Alves.
But how did the idea come about?
"Rafael and I, scientists in Germany, were involved with Native Scientist - a non-profit organization, founded by Portuguese researchers in the United Kingdom, which brings together scientists and migrant children through science workshops in their mother tongue". And in the meantime, they met a project Letters to a Pre-Scientist that they found incredible and inspired Cartas com Ciência. This project is a spinn off of Native Scientist, which supports Cartas com Ciência in several ways as the initiative grows, being already a recognized institution. The letters will start with a school in Portugal, one in Timor.
"The student feedback is incredible," says the founder, who did a pilot test when she was in Nigeria on business and decided to try an exchange of letters between students from a school she visited and EMBL, where she works (European Laboratory for Molecular biology). "The letters were very funny. The format was different because they only sent one letter, but it was fun. The children asked wonderful questions. Some sent so many questions, and we had so many interested scientists that we shared them with the scientists" she reveals.
"From the letters I have already read and written, I think that the best way to inspire children is to be open, explain that they should assume what they like regardless of discrimination, or difficulty. And breaking many science myths - No, scientists don't have to be all brains, and our projects also have frustrating parts, but they worth it. Teaching or sharing with them things that we found very difficult before we overcame them and the strategies we have pursued to achieve them, are essential".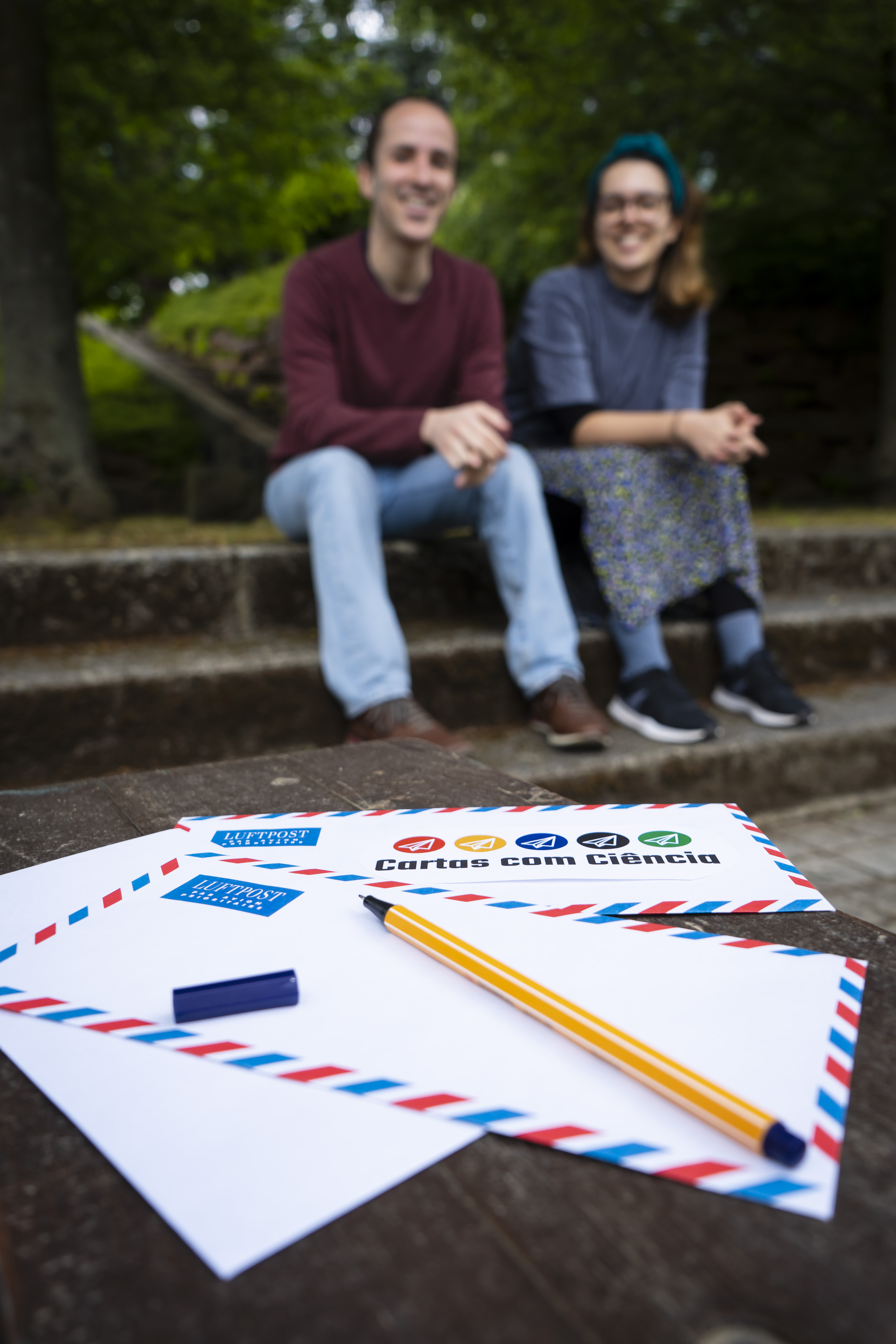 Mishaps? "I work with flies and my pen pal asked me in the letter if I was investigating lions and I said no, and I tried to fascinate him with flies as it is also relevant to study small animals. And in the next letter he continued to ask about lions. It was funny!" Obstacles? There's always. In this case, there are mainly financing barriers and logistical issues. But the founder answered convicted and pragmatically: "it is a matter of adjustment, having the project to adapt itself in order to reach all countries. Even if in certain places there is no mail distribution, we will have to adapt the format. We need partnerships and support for these types of things because we're not on the ground, we don't know."
Open letter to scientists and the wider community:
Scientists, it's not every day that you have the opportunity to break barriers and discriminations, inspiring young people and helping them to develop their research skills!
The advice:
"Let people, whatever they do, think about whether they are reaching everyone they could or whether in their work they could do more to reduce inequalities. Believe in science and spread it."
Who knows if for some children it will be the first time they send a letter…
*Images: Raquel Correia