On July 26th, celebrated this Tuesday, the Pavilion of Science was filled with curious children and young people. They are eager to learn more and more and discover the sea and the animals that inhabit it. Who better than the researchers to satisfy such curiosity?
"Sorry, are there any hammerhead sharks here?" a child asks upon arriving at the Fishanary. Not that specific one, but there is the whale shark and many more species to show. Another child comes forward and says, "I want to hear the explanation." MARE researcher Vera Sequeira explains everything, but first asks the customary questions: which animals do they know that are on this table?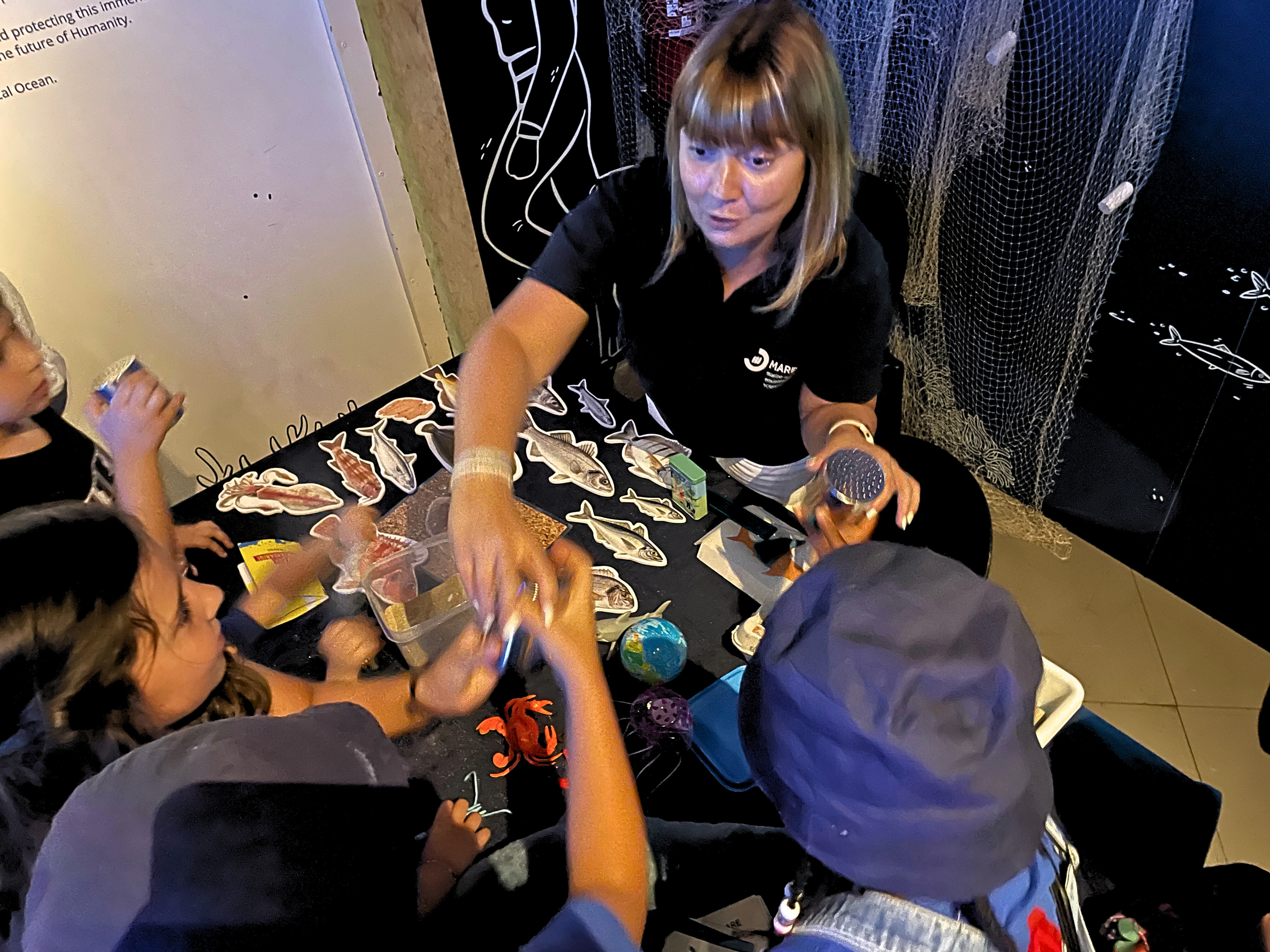 On the "table of sea secrets," there are crabs, starfish, squids, lobsters, sharks, and fish such as gilt-head bream, red mullet, white seabream, or sardine. The researcher explains the importance of sustainable fish consumption. They must avoid eating tuna, salmon, and cod because these species do not exist in our waters, and they should enjoy the ones that do. There is also a box with sand and sea turtle eggs. The little ones try to uncover them to get to know them and perhaps search for them on the beaches as well. On the table, there are also three small boxes with different scents - laundry detergent, cinnamon, or coffee. The idea is to show them that some fish use their sense of smell to navigate and find the rivers where they were born. Lastly, there is a rope, which measures 12 meters when stretched, the same length as a whale shark. "Children like to interact, touch, see, and many of them collect these animals at home," explains MARE researcher Vera Sequeira, who enthusiastically receives the children and even adults who come to her during this anniversary celebration.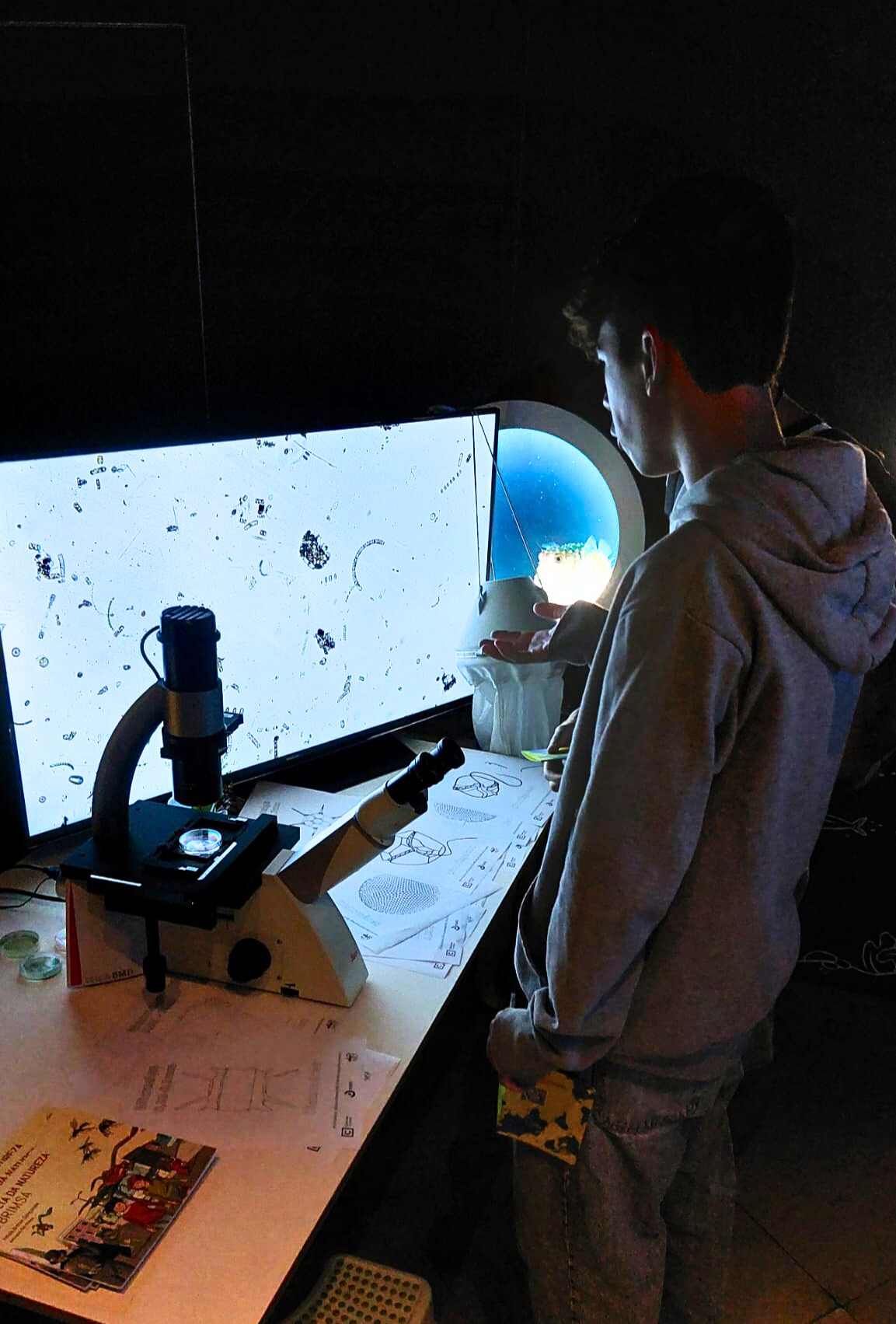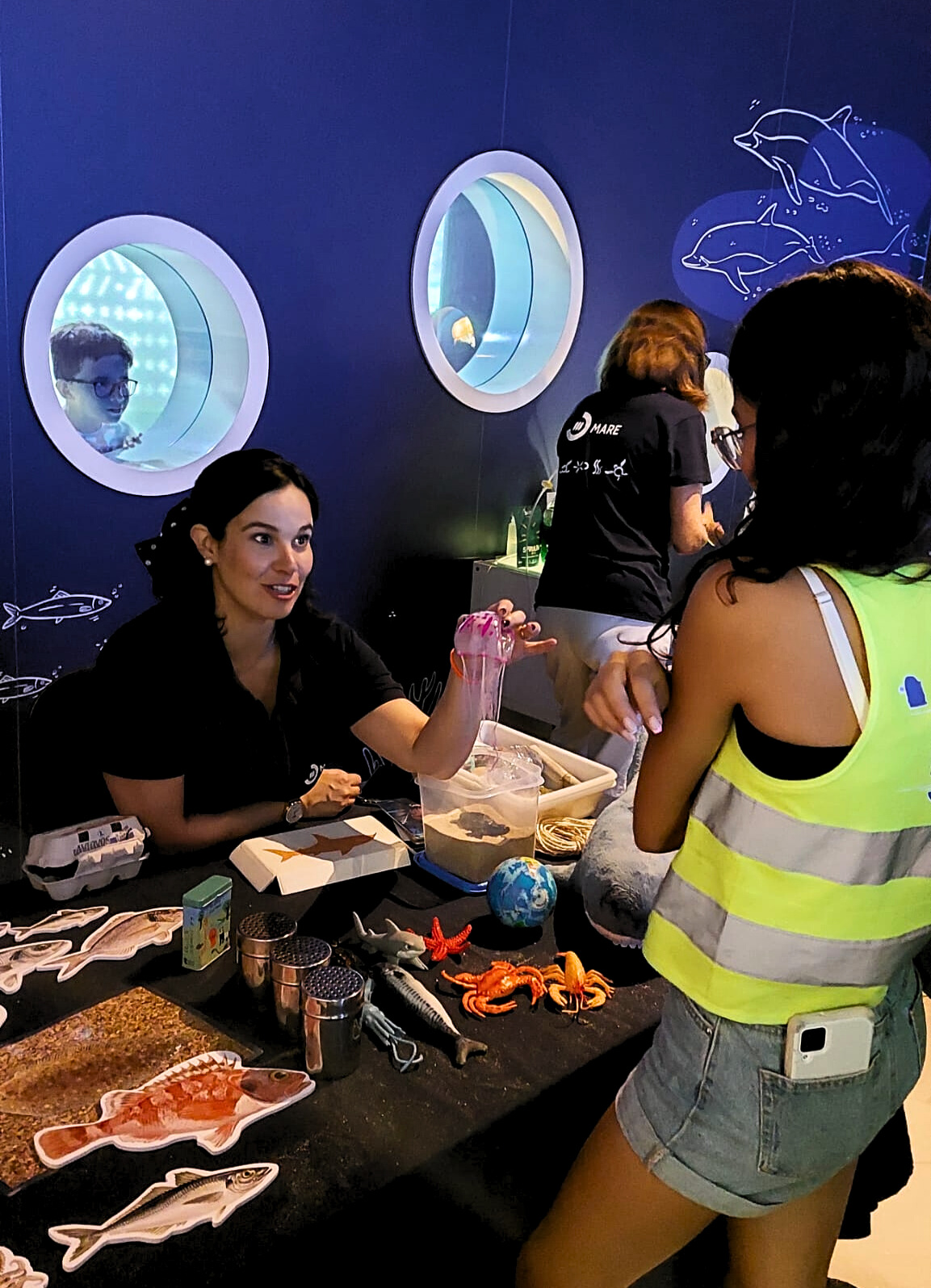 Just next to them are live oysters and the algae they feed on. Caught on Monday near Cascais Marina with a plankton net, they were brought to the Pavilion of Knowledge to introduce these marine worlds to the children. Concepts such as circular economy are also intertwined. "Do you know what it is?" asks MARE researcher Ana Amorim to the children. She explains, "the idea is to use everything and waste nothing. We extract pigments from algae [to make, for example, M&Ms], but we also use the rest to feed fish in aquaculture, as fertilizer in agriculture, and even for human consumption. There are highly nutritious compounds derived from algae." "And those yellow ones?" asks another curious girl. They are diatoms. They are cultivated to provide food for oysters. Even gelatins are extracted from algae. And why study algae? Researchers study algae to see if there are toxic algae on our coast and how climate influences the appearance of new algae. Besides, there is a type of algae that even helps mitigate the effect of carbon dioxide.
A bit further away is the Virtual Reality Pavilion with Kids Dive. The well-known project has been taking the sea, and especially the diving experience, to many children. This year alone, it has reached about 1300 children from all over the country. With MARE researcher Frederico Almada, the children are in a room with a scooter (to move underwater), a life jacket, and a virtual diving mask. The researcher provides details about his work in schools and marine life. But what really arouses curiosity are the sharks. "But are they far from the coast?" asks a future biologist. "Sharks don't like people. They like to eat fish. They exist throughout the ocean, but they are generally not aggressive and don't usually get close to the coast," explains the researcher. He concludes with numbers: "we kill about 100 million sharks a year," a number that has nothing to do with human deaths due to sharks.