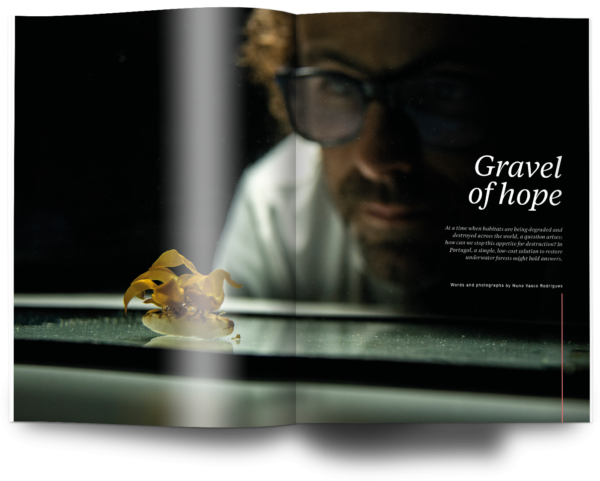 Is it possible to reforest our marine forests, just like we do with our terrestrial forests? Researchers at MARE-Politécnico de Leiria believe that just as reforestation in our terrestrial forests, it is also possible to reforest our marine forests and that is their inspiration.
Kelp forests, which are forests of large brown macroalgae, often known as seaweed, provide us with a range of goods and services that are often unrecognized. They are habitats of high biodiversity that also contribute to our food supply (directly and indirectly), biomass production, oxygen generation, and even carbon dioxide absorption and storage to some extent. In many regions, they also hold ethnic and cultural significance.
Therefore, the protection of these ecosystems inevitably requires increased scientific knowledge and literacy dedicated to our marine forests," explains MARE researcher João Franco.
Sometimes it is noticed that young people know a lot about coral reefs in tropical waters but are unaware of the marine forests that exist in our "own backyard," highlights João. Moreover, in our coastal areas, the in situ scientific knowledge of these ecosystems is still quite limited compared to other regions of the world.
"We have been working to increase the ecological knowledge of our marine forests and to test, improve, and implement solutions for marine reforestation where necessary. This process involves not only understanding the ecosystems in question but also the different species that are part of the marine forests. In this case, kelp forests are habitats of high ecological importance that, in addition to supporting distinct biodiversity, offer many other goods and services that we all, to a greater or lesser extent, benefit from in our daily lives," explains João Franco.
This relevant information was featured in an article in Oceanographic, a relatively recent magazine with excellent global projection. In the magazine, "we can find inspiring stories about revolutionary projects in the field of conservation, adventure, and exploration, written by skillful storytellers, accompanied by images from some of the world's best nature/adventure/conservation photographers. In addition to their online presence, they maintain a physical publication, something that is currently scarce, combining superb graphics and paper quality in a 500-style 'coffee table collectible' magazine. In the words of the famous underwater photographer David Doubilet, who is also a contributor to the magazine: 'A piece of pure publishing joy.' I think this enthusiastic description captures how happy we are to have our 'space' in the magazine," explains researcher Nuno Vasco Rodrigues, who has two published stories as a collaborator of the magazine, always writing within the scope of science and conservation projects, which he illustrates with his images.
At the moment, the researchers are involved in several research projects (e.g., EEA-Blueforests and EEA-Blueforesting), always focusing on marine habitats, including kelp forests along our coast. The idea is to increase the ecological knowledge of these declining ecosystems, quantify their ecological and economic importance, and present recovery solutions, all through nature-based solutions.
©Caption: "Gravel of hope" is a story about ocean regeneration. "A simple and low-cost solution to restore underwater forests may hold some crucial answers to combat the effects of climate change."