Pedro Proença Cunha, Prof. Catedrático do Departamento de Ciências da Terra da Faculdade de Ciências e Tecnologia da Universidade de Coimbra e Investigador do MARE – Centro de Ciências do Mar e do Ambiente, é coautor do artigo "First tracks of newborn straight-tusked elephants (Palaeoloxodon antiquus)", publicado a meados de 2021 e que já está no top 100 dos artigos mais lidos em 2021 da revista Scientific Reports, do grupo Nature.
No ano de 2021 foram publicados cerca de 2000 artigos nesta revista na temática Ecologia e no 2º semestre de 2021 este artigo já teve 4873 downloads a partir do website da revista.
Este artigo apresenta o estudo da primeira descoberta de pegadas de crias de elefante antigo, numa camada de areias interdunares datada de cerca de 120 mil anos (MIS 5, Plistocénico Superior) que também apresenta pegadas de Neandertais e de vários vertebrados fósseis. Na Península Ibérica, a espécie de elefante antigo extinguiu-se há cerca de 30 mil anos.
Este artigo é o resultado de um intenso trabalho de colaboração científica multidisciplinar internacional, de investigadores experientes e com muita paixão em produzir ciência de qualidade. Este artigo documenta, pois, a Paleontologia que atualmente fazem investigadores portugueses, em colaboração científica com colegas estrangeiros.
P. Proença Cunha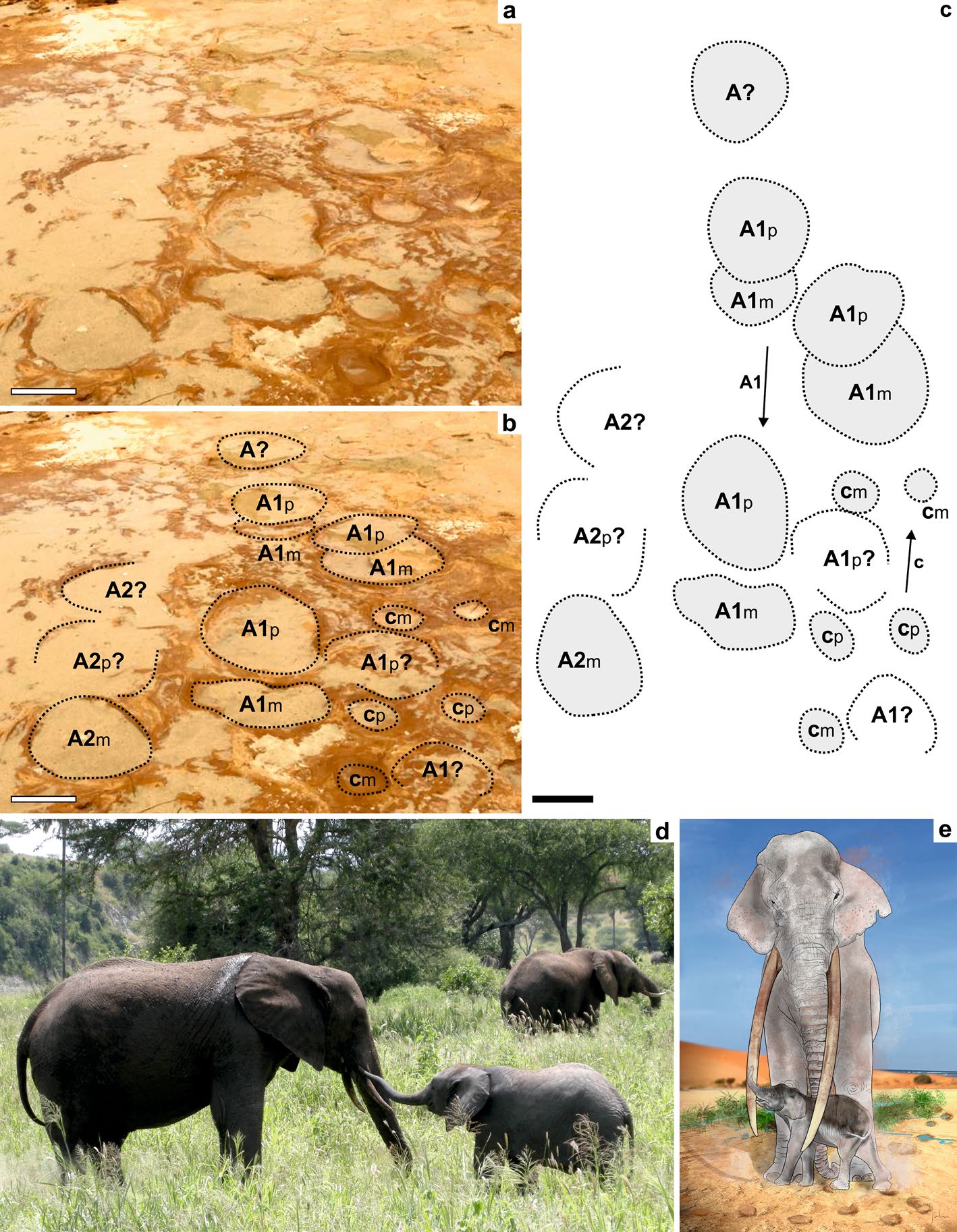 Figure 7. Ichnological evidence and reconstruction of Palaeoloxodon antiquus social interactions deduced from the MTS. (a–c) Two adult (presumably female) 'A1 & A2' and one juvenile trackway 'c' showing convergence (the toe impressions indicate opposite orientation of movement); note overstepping of pes over manus in the main adult trackways that is not seen in the smaller tracks, in this case because the small juvenile may have stopped just after the larger animal slowly passed by (interpretation in c). (d) Example of a young mothernewborn L. africana interaction. (e) Reconstitution of mother-newborn interaction in the MTS (artwork of J. Galán).