Advanced course in microalgae and auxiliary cultures – 2nd Edition
12 to 16th of June 2023 
Schedule: 9:30 – 12:30 e 14:00 – 17:00  
3 ECTS 
Registration:  until May 31st, 2023 
+ information and expression of interest: slourenco2@gmail.com
Microalgae pose a world of high biodiversity with a great potential as marine resource. Traditionally used as auxiliary culture in aquaculture, nowadays the microalgae constitute a production target due to their application in food industry, cosmetics, nutraceuticals, chemistry, bioenergetics, biofertilizers and CO2 capture. Rotifers and artemia benefit and can be nutritionally improved with specific microalgae. The two groups of species are often the first feed of several aquaculture and ornamental species and important research models.
Goals:  
The advanced course in microalgae and auxiliary cultures aims to present the main microalgae and zooplankton species produced for aquaculture, ornamental and experimental objectives. There will be addressed, the main culture methods in laboratory, potentiality as marine resources and industrial production methods. The course combines lectures with practical sessions addressing procedures to establish cultures of autotrophic microalgae in laboratory, from single cell isolation techniques, molecular tools for strains identification, culture mediums and maintenance of cultures in laboratory. 
Audience: 
Researchers, PhD candidates, graduate, and master students with interest in microalgae and their applications.  
Course program: 
1. Introduction to the primary and secondary auxiliar cultures
2. Culture systems for freshwater and marine microalgae
3. Culture systems for rotifers and artemia
4. Biotic and abiotic factors influencing the microalgae culture
5. Methods to treatment water to microalgae culture
6. Maintenance of monoclonal strains 
               6.1 Maintenance in liquid medium
               6.2 Maintenance in solid medium
7. Sterile techniques to work with microalgae in the laboratory
8. Cell counting methods and biomass estimates
               8.1 Cell counts at the microscope
               8.2 Wet and dry weight biomass estimations
9.  Modulation of microalgae nutritional content
10. Nutritional enrichment of rotifers and artemia.
11. Molecular tools to identify microalgae strains 
Fees: 
Researchers of MARE, students and collaborators of School of Tourism and Maritime Technology – Polytechnic Institute of Leiria: 235,00 € + 15,00 € (Insurance + attendance certificate) 
External/Other Instituitions: 485,00 € + 15,00 € (Insurance + attendance certificate) 
Coordinator:  
Sílvia Lourenço, MARE and School of Tourism and Maritime Technology – Polytechnic Institute of Leiria (ESTM-IPL)
Lecturers: 
 Pedro Seixas, AQUALGAE [https://aqualgae.com/es/home/  ] 
Guilherme Ferreira, ESTM-IPL [https://www.ipleiria.pt/estm/ ]  
Logistics 
The course has a presential component of 36 h and an autonomous dedication component estimated of 46 h, in a total of 81 h.
*Attendance certificate at the end of the course.
Limited number of registrations. If number of applicants exceeds the number of registrations, these will be included in a waiting list.  
School of Tourism and Maritime Technology, ESTM – Polytechnic of Leiria,  
Campus 4 
Rua do Conhecimento, n.º 4 
2520–614 Peniche – Portugal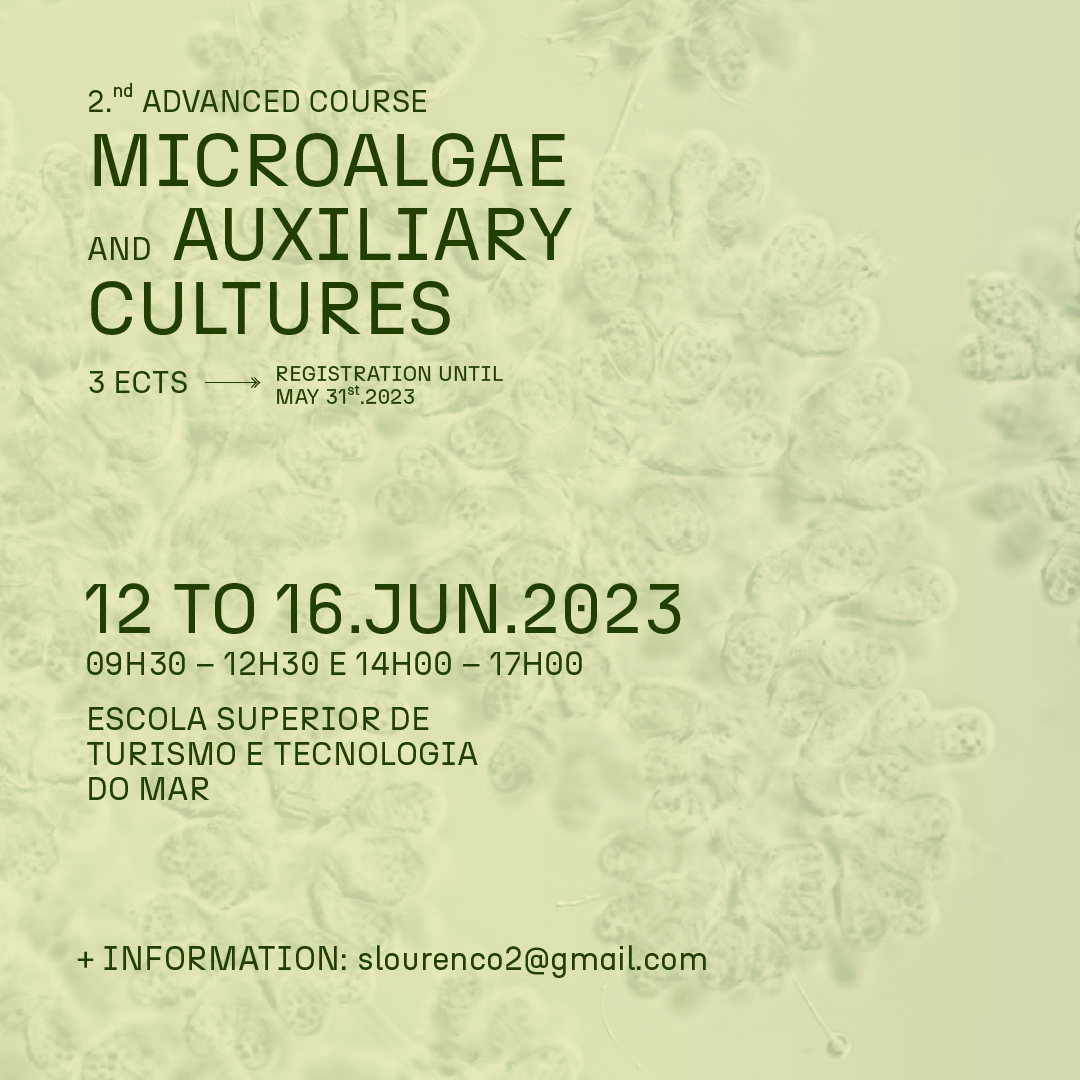 Date:
Monday, 12 June, 2023

to

Friday, 16 June, 2023