MARE participated in Ciência Viva, Ciência Viva no Verão and Ao leme com Ciência Viva, with activities for the general public, during August and September 2016.
MARE participated in the European Researchers' Night (NIGHT), in Lisbon, at Pavilhão do Conhecimento and Museu Nacional de História Natural e da Ciência, with activities promoted by researchers to young people and their parents, on 30 September 2016.
Quintas do MARE talks aim to disseminate the research work carried out by MARE to a wider audience. They happen every two weeks on Thursday, 13h30 - 14h, and attendance is free.
Planeta Mar is a joint initiative by Antena 2 and MARE to communicate science  to the general public. Interviews available via podcast at Antena 2.
Oportunidades (Opportunities) is the new place at MARE's portal where researchers can publicize science and research opportunities at MARE. Access is open both to the MARE community and general public.
MARE participated in the 7th BioMarine International Business Convention on 19-21 October 2016, in Oslo, Norway.
River Basins

 

Lopes et al. 2016

Alternating skimming flow over a stepped spillway. Read More »

Lopes et al. 2016

Assessment of the ability of a volume of fluid model to reproduce the efficiency of a continuous transverse gully with grate. Read More »

Mateus et al. 2016

European Lampreys: New Insights on Postglacial Colonization, Gene Flow and Speciation. Read More »

Stratoudakis et al. 2016

Exploited anadromous fish in Portugal: Suggested direction for conservation and management. Read More »

Vieira et al. 2016

Systemic approach for the capacity expansion of multisource water-supply systems under uncertainty. Read More »

 
 

Estuaries and Coastal zones

Beldade et al. 2016

Spatial patterns of self-recruitment of a coral reef fish in relation to island-scale retention mechanisms. Read More »

Dias et al. 2016 

Intertidal pools as alternative nursery habitats for coastal fishes. Read more »

Gamito et al. 2016 

Are Portuguese coastal fisheries affected by river drainage? Read more »

Madeira et al. 2016

Thermal acclimation in clownfish: An integrated biomarker response and multi-tissue experimental approach. Read more»

Madeira et al. 2016

Is the stress response affected by season? Clues from an in situ study with a key intertidal shrimp. Read more »

Madeira et al. 2016

When warming hits harder: survival, cellular stress and thermal limits of larval fish under global change. Read more »

Madeira et al. 2016

Ocean warming alters cellular metabolism and induces mortality in fish early life stages: a proteomic approach. Read more » 

Madeira et al. 2016

Are fish in hot water? Effects of warming on oxidative stress metabolism in the commercial species Sparus aurata. Read more » 

Martins et al. 2016

Applying quantitative and semi-quantitative histopathology to address the interaction between sediment-bound polycyclic aromatic hydrocarbons in fish gills. Read more »

Mendonça et al. 2016

Chitons' apparent camouflage does not reduce predation by green crabs Carcinus maenas. Read more»

Pinteus et al. 2016

Cytoprotective effect of seaweeds with high antioxidant activity from the Peniche coast (Portugal). Read More »

Sampaio et al. 2016

Habitat selection disruption and lateralization impairment of cryptic flatfish in a warm, acid, and contaminated ocean. Read More »

 
 

Open ocean and Deep Sea

Catry et al. 2016

Provenance does matter: links between winter trophic segregation and the migratory origins of European robins. Read More »

Domingues et al. 2016

Short-term interactive effects of ultraviolet radiation, carbon dioxide and nutrient enrichment on phytoplankton in a shallow coastal lagoon. Read More »

Negri et al. 2016

The cephalopod prey of the Weddell seal, Leptonychotes weddellii, a biological sampler of the Antarctic marine ecosystem.  Read more »

Rita et al. 2016
Benthic foraminiferal assemblages record major environmental perturbations during the Late Pliensbachian–Early Toarcian interval in the Peniche GSSP, Portugal. Read more »

Santos et al. 2016

Ocean planning in a changing climate. Read more »
Seco et al. 2016
Distribution, habitat and trophic ecology of Antarctic squid Kondakovia longimana and Moroteuthis knipovitchi: inferences from predators and stable isotopes.  Read more »
Silva et al. 2016
Effects of ocean acidification on the swimming ability, development and biochemical responses of sand smelt larvae. Read more »

Xavier et al. 2016

Biogeography of cephalopods in the Southern Ocean using habitat suitability prediction models. Read more »

Xavier et al. 2016

Education on biodiversity of the Polar Regions. Read more»

Xavier et al. 2016

The significance of cephalopod beaks in marine ecology studies: Can we use beaks for DNA analyses and mercury contamination assessment? Read more »

 
Fellowships
Post Doctoral Fellowship in Biological Sciences at MARE (IPL)
(30 months)
AlgaValue/17680/BPD
Applications open 7 November 2016 to 21 November 2016
Research Fellowship (BI) in Biological Sciences at MARE (NOVA)
(6 months)
JPIOCEANS/0001/2015
Applications close 14 November 2016
Projects
Mar 2020 – Programa Operacional (PO Mar 2020)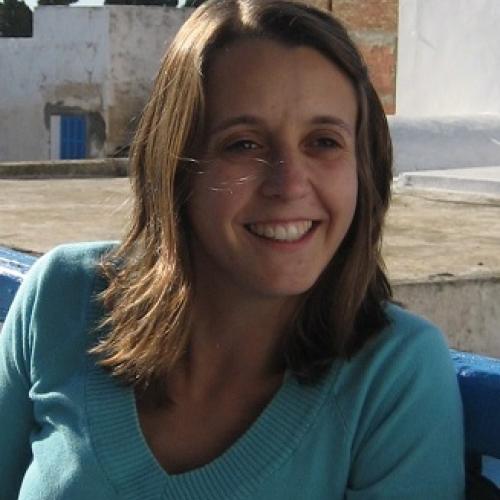 Rita P. Vasconcelos
Assistant researcher at MARE-UL
1. Key research areas:
-Measure and model patterns and drivers of biodiversity from local to global scales
-Assess value of coastal habitats and population connectivity for commercially important species
2. Major outputs:
-Identified global patterns and drivers of fish biodiversity in estuaries based on a meta-analysis: taxonomic diversity (Vasconcelos et al. 2015 Journal of Animal Ecology, Henriques et al. 2016 Journal of Biogeography) and functional diversity (Henriques et al. under review, Vasconcelos et al. under review).
-Estimated potential and effective value of estuarine nurseries for populations of commercially important fish species using multiple metrics (e.g. Vasconcelos et al. 2011 Ecological Indicators)
3. Future perspectives within the MARE context:
-Explore links between the multiple dimensions of biodiversity (taxonomic, functional and phylogenetic) and to ecosystem functioning and services
-Explore temporal changes in aquatic biodiversity
-Explore resilience of fish communities to anthropogenic pressures worldwide
https://sites.google.com/site/ritapinavasconcelos/home
rpvasconcelos@fc.ul.pt
AQUAculture USEr driven operational Remote Sensing information services
Start / End date: 01/11/2013 - 31/10/2016
Funding Source: FP7 – EU
The EU-funded project AQUA-USERS, started in the end of 2014. The objective of AQUA-USERS is to provide the aquaculture industry with user-relevant and timely information based on the most up-to-date satellite data and innovative optical in-situ measurements. During the course of the project, an application was developed that brings together satellite information, on water quality and temperature, in-situ observations, relevant weather predictions and met-ocean data. Specific focus was put on the development of indicators based on Earth observation (EO) data for aquaculture management including detection of harmful algae bloom (HAB) events. The MARE-FCUL team led by Dra Vanda Brotas was responsible for the development of the EO indicators and was also involved in the optical characterization of harmful phytoplankton species to train the HAB detection algorithms. More information on the project